These stories and this list got us thinking about what southern literature is and is supposed to be. Southern literature at its best contains all of the region's contradictions and irrationalities, full of rascals, rebels and wily reverends. The type of stuff we like to read. Here's our top 5 Southern novels.

5.

The Heart is a Lonely Hunter

by Carson McCullers


Though set in 1930s Georgia,
The Heart is a Lonely Hunter
is less about the Deep South and more about how normal people face up to life's many sorrows and disappointments. McCullers wrote the book at the age of 23, but her complex view of her varied characters and their sufferings demonstrates that she was wise beyond her years.--Andrew
4.

The Moviegoer

by Walker Percy
Every Southerner immediately and forever knows the malaise.


3.

Everything That Rises Must Converge

by Flannery O'Connor

O'Connor slowly lures you in, then knocks you over the head.--my wife, Ashley


2.

All The King's Men

by Robert Penn Warren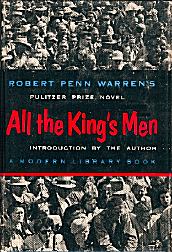 Willie Stark = Huey Long = Bill Clinton. We are their pawns.

1.

A Confederacy of Dunces

by John Kennedy Toole

Only Ignatius Reilly has the courage to put his eccentricities and laziness into action. The rest of us just harbor resentment against his boldness.