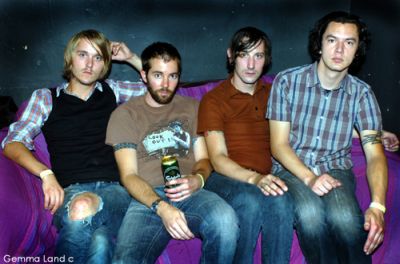 These Arms Are Snakes: "Red Line Season"


When these two bands get together I'm sure there is some nutty electronic math rock freakout of epic proportions. Biblical proportions. The two bands are different musically, but they approach their song structure similarly. So there's Seattle's These Arms Are Snakes, schlepping their new album,
Washburn
.
DD/MM/YYYY: "Digital Haircut"

Then there is buzz band DD/MM/YYYY out of the Great North (Toronto) more known for not knowing what to call themselves than for their brand of methodic electronica rock. Good stuff all the same. And their new album out now on cassette (officially now what 'cool' kids do) & digitally & possibly mp3 is called
Black Square
.


They're hitting a bunch of dates together down South, so head on out to one of them. Dates after the jump...


Sep 29 2009
DC9 w/ DD-MM-YYYY Washington, Washington DC

Sep 30 2009
Local 506 w/ DD-YY-MMMM and Fin Fang Foom Chapel Hill, North Carolina

Oct 1 2009
Star Community Bar w/ DD-MM-YYYY and Hawks and Whores Atlanta, Georgia

Oct 2 2009
Club Downunder w/ DD-MM-YYYY Tallahassee, Florida

Oct 3 2009
Will's Pub w/ DD-MM-YYYY Orlando, Florida

Oct 5 2009
Spanish Moon w/ DD-MM-YYYY Baton Rouge, Louisiana